Peak Name: Battleship Rock

Peak Height: 5,422'

Location: Valley of the Gods

Route: Northeast Face

Difficulty: 5.2

Mileage & Gain: 2.5 mi, 600 ft

Date Climbed: 11/21/2015


Battleship Rock is a mile-long mesa in the heart of the Valley of the Gods that, not surprisingly, resembles a large battleship. While it isn't as striking as many of the surrounding curiously shaped towers and buttes, its sheer size commands the attention of passers-by. This large mass had piqued my curiosity on several previous visits and I've been anxious to explore it.
Like a battleship, its large deck (the summit plateau) is well guarded, in this case by steep cliffs on all sides. In his Desert Rock IV, Bjornstad mentions a two pitch 5.8 route on the narrow east end of the formation that was put up by first ascentionists John Middendorf and Milissa Wruck in 1990, though he incorrectly identifies the peak as Franklin Butte. He gives no more information about the climb and I have never heard of any other ascents.
Dom & I parked on the north side of Battleship Rock and were drawn to a series of weaknesses on the long northeast face. The line we eyed from the car ended up working quite well with only a light sprinkling of spice. Two major cliff bands must be overcome. A short 4th class ramp allows easy passage through the lower band and delivers one to a narrow ledge system running along the face below the upper band. We followed this key ledge for nearly 1/4 mile before it petered out and a weakness through the upper cliff band conveniently presented itself. Surmounting this obstacle required a bit of somewhat exposed, low 5th class, super chossy climbing. There is a solid #3/#4 crack at the base of this 20 foot crux but no way to protect the short climb itself. We made an anchor and used the rope to guarantee we wouldn't tumble off the narrow ledge below and over the lower cliff band if a hold blew (or if the whole pile of crap fell apart, which did not seem out of the realm of possibility!).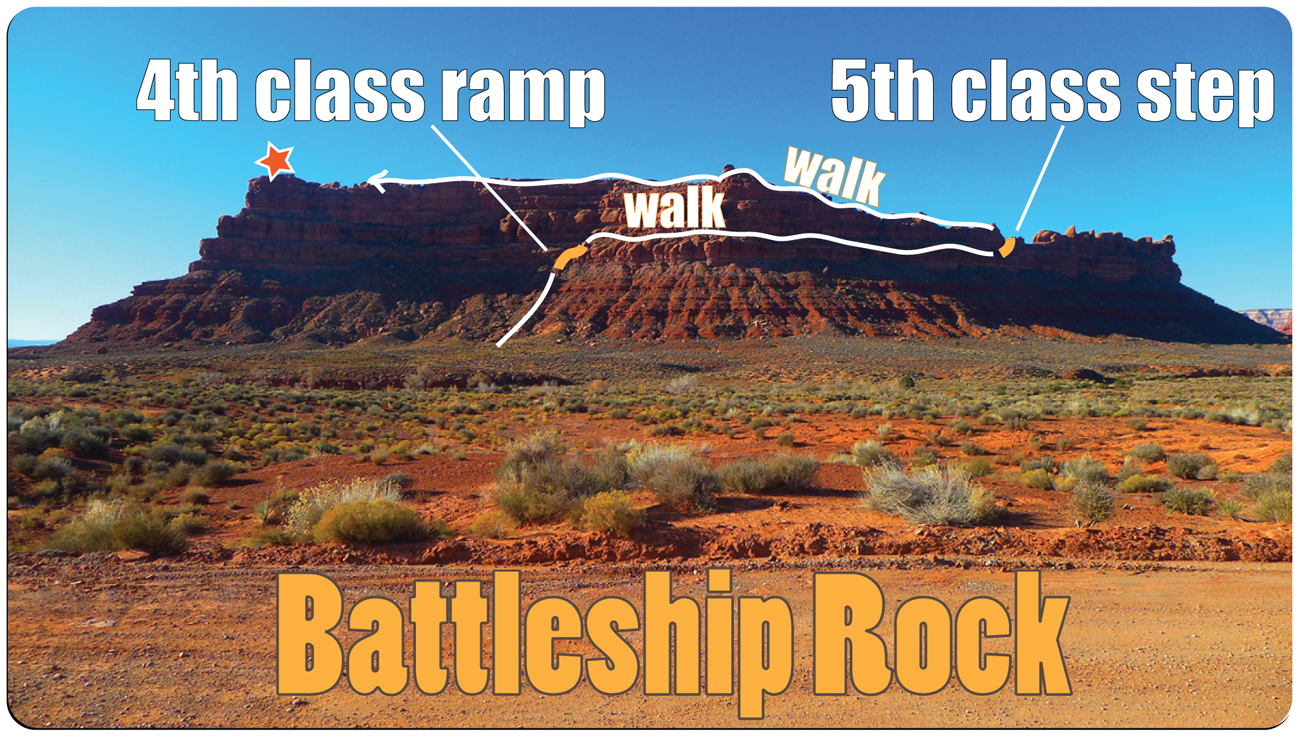 ---