---
Overview: Colorado NE Ridge Route
---

PITCH ONE: "bolt" ladder [C0]

PITCH TWO: flaring mud chimney [5.8]

PITCH THREE: aiding on old fixed gear + cams mixed w/ free moves [5.7 C2]

PITCH FOUR: clean aid to long "bolt" ladder [5.7 C1]

PITCH FIVE: strenuous aid roof to fixed gear + free moves [5.7 C1]

PITCH SIX: short traversing handcrack to dirty summit chimney [5.8]


GEAR USED: 2 x 60m ropes, 2 sets cams 0.3 to #3, single #4 cam, 20+ quick draws including some alpine draws and several screamers if possible, rivet hangers and tie offs, stick clip, extra slings, biners and anchor building material, aiding setup (2x daisy chains, 2x etriers, fifi hook), jugging setup (frog version including ascender, croll, chest strap and leg loops), rock shoes & comfortable shoes


---
Chapter I: The King Puts us in Our Place
---
Dominic & I are happy to have the Crimster, a Fisher Tower veteran, on our team. A partner who knows such a route firsthand is quite the delicacy and adds some level of comfort. Not to mention Brian's simply an all around great guy and climbing with him is always a good time. The early morning sun illuminates nearby Castle Valley as we sort and pack gear in the chilly Fisher Tower parking lot.
I won't deny my nervousness as we grind out the approach hike to the backside of the Kingfisher. Passing by Ancient Art, I remember how intimidating it appeared when Dom & I climbed it nearly three years ago. Oh how perceptions change. Today it seems like child's play compared to the task at hand. You know me though, I make everything out to be harder than it really is. Psshh Kingfisher, what a joke. I'll spare you the overdramatic build-up and cut right to the business.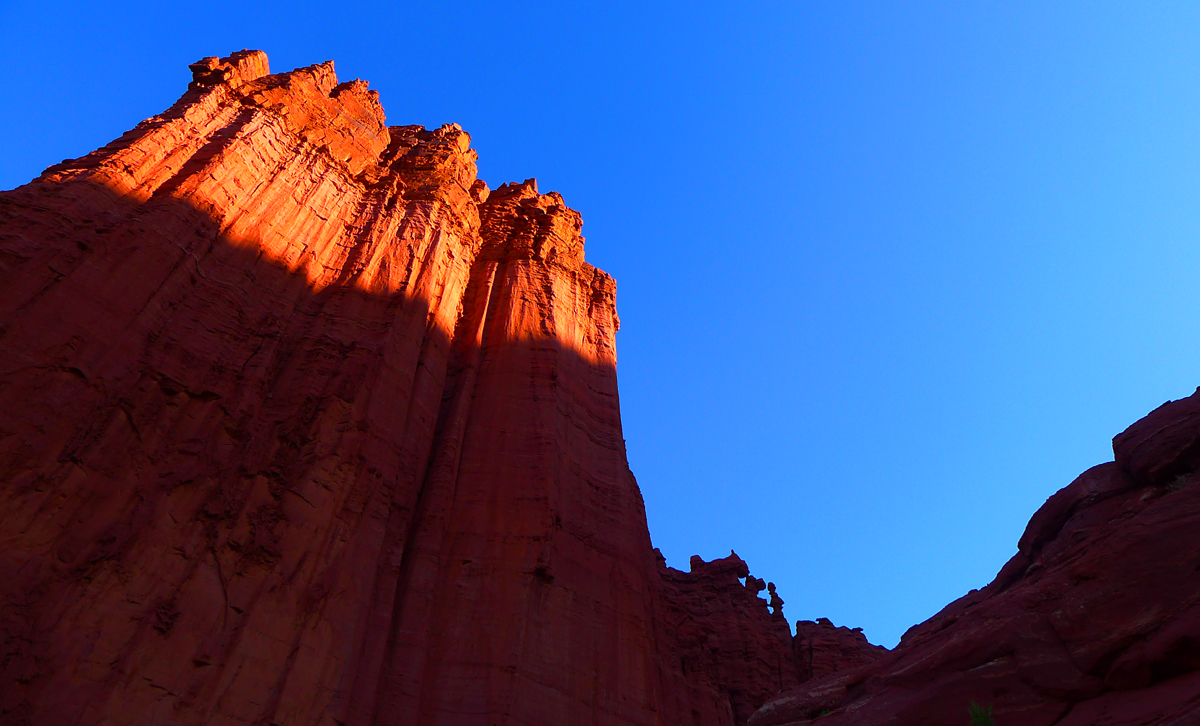 ---
Pitch One: Its only C0
---
The first pitch is the most straightforward aid pitch on the route, nothing more than an easy 80 foot bolt ladder some may say. "Bolt ladder" is a bit of a misnomer for the uninitiated however. A more appropriate description for those unfamiliar with climbing in the Fishers would be "reachy C0 aid up an assortment of old and new(er), and at times manky, fixed gear".
Brian and Dominic could crank through this with ease but I have staked my claim. Its a perfect challenge for me. Despite shying away from the sharp end on nearly every desert tower to date, I am determined to make a conscious effort to step up my mental game. In an attempt to become a better climber I have been making a point lately of sorting rational and irrational fears. Am I scared because there is real potential for serious injury or am I simply scared of the off chance I'll take a reasonably protected fall? Making the determination is often easy; carrying through after the evaluation never is.
If it weren't for Derek, who once taught me the basics of aid climbing at North Table Mountain and had the patience to belay me on a few practice runs, I would not be in a position to do this. This'll be my first crack at a real aid pitch and I'm excited! Thanks Derek!
I get off to a slow and creaky start, get discouraged and scared along the way, then gain momentum and confidence the higher I go. Some of the bolts are really bolts, and good ones. Others are sticking out a ways. Plenty lack hangers. Others are not bolts at all, just quarter inch nails sticking out of the mud or the occasional piton. A few of them are very reachy and require nervous high stepping in my aiders. As is to be expected, there is a mental difference between standing on a securely clipped bolt or cam, and high stepping off a little loop of wire draped over an old quarter inch bit of metal near your feet.
The highlight of the pitch is negotiating two hangerless bolts with a large span between them. It takes some guts for me to trust that the tie-off I'm stepping on isn't going to pop off the lower one as I balance and stretch up high to hook the next one with a rivet hanger. I'd rather tie it off but its too much of a balancy reach to be screwing around up there. I step onto the rivet hanger, move up a step or two in my aiders with fingers crossed that it stays put, and a wave of relief washes over me when I'm able to clip the hanger above. Whew!
The only thing worse than watching or belaying an aid pitch is watching or belaying an aid pitch being led by a noob. I feel like I'm moving at a snail's pace and holding up the show. I volunteer to hand off the lead but Dominic and Brian encourage me upward. Thanks guys.
At long last I reach the anchor! More inefficiency leads to two fixed ropes for Brian and Dominic to jug. The hardest part about aid climbing might just be managing all the gear! Brian cleans the pitch while Dominic casually ascends the free hanging line.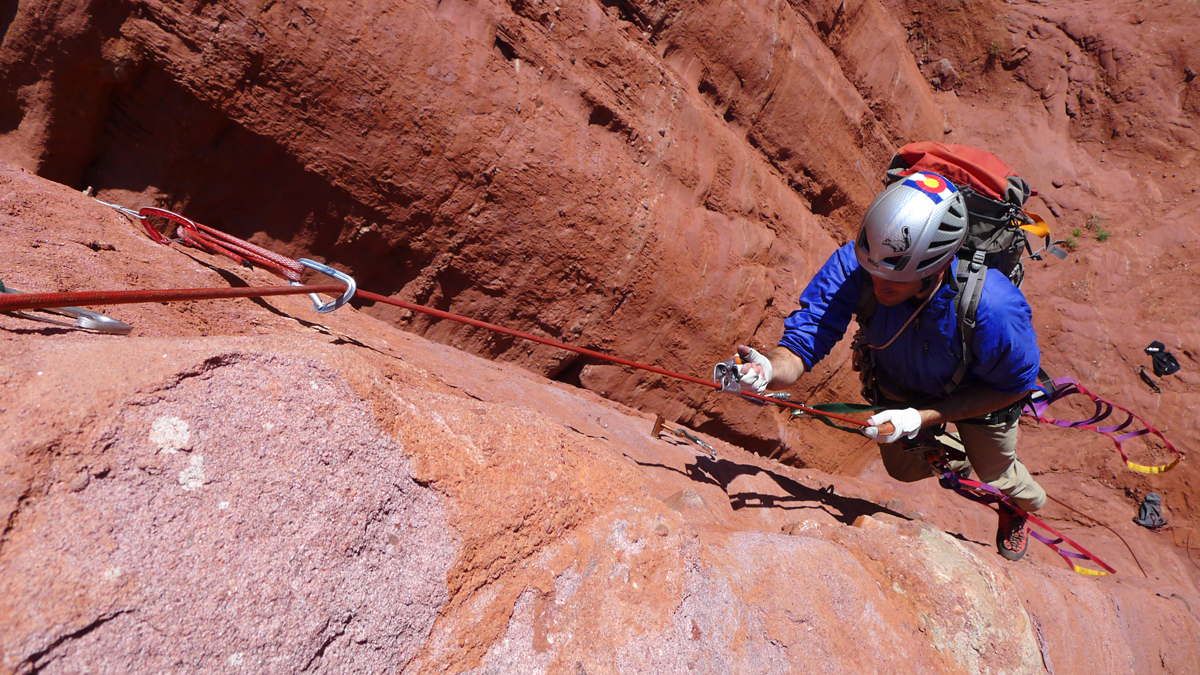 ---
Pitch Two: Did Someone Say Chimney?
---
Dominic, being the chimney guru of the bunch, happily takes on the 80 foot flaring 5.8 mud slot with the greatest of ease. In his opinion, the only thing better here would be an offwidth. In the blink of an eye he's yelling off belay from the next anchor on the northeast ridge proper.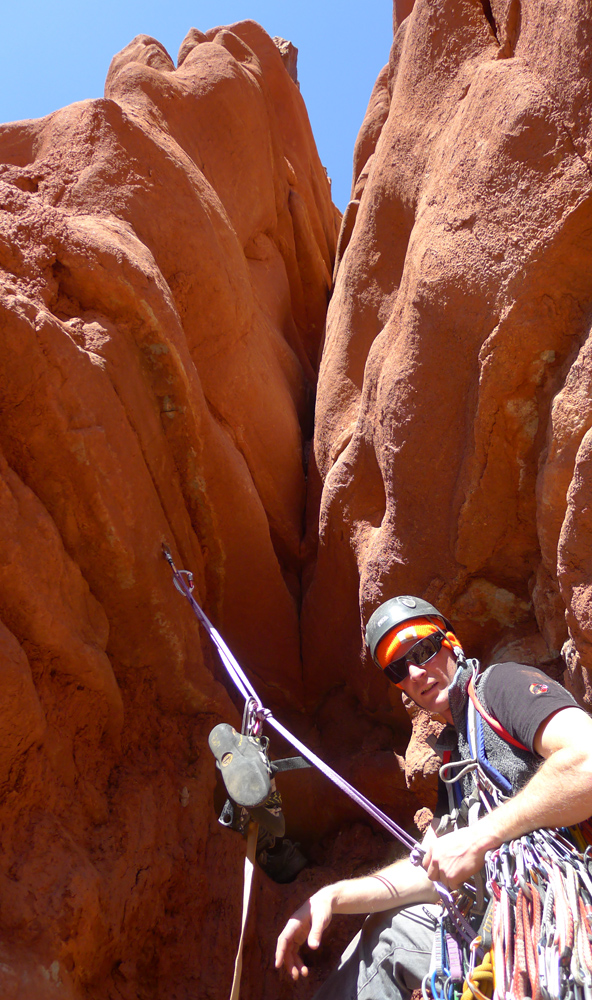 I choose to put my rock shoes on and free climb the pitch while Brian opts to stay in his approach shoes and awkwardly jug the chimney wearing our communal backpack. Fun times.
---
Pitch Three: Making the Call
---
Unless you like sketchy hard free climbing on mud or perhaps wild shoulder stands, the 3rd pitch starts out with a mandatory stick clip. Luckily the sun is shining directly in Brian's eyes as he carries out the delicate operation.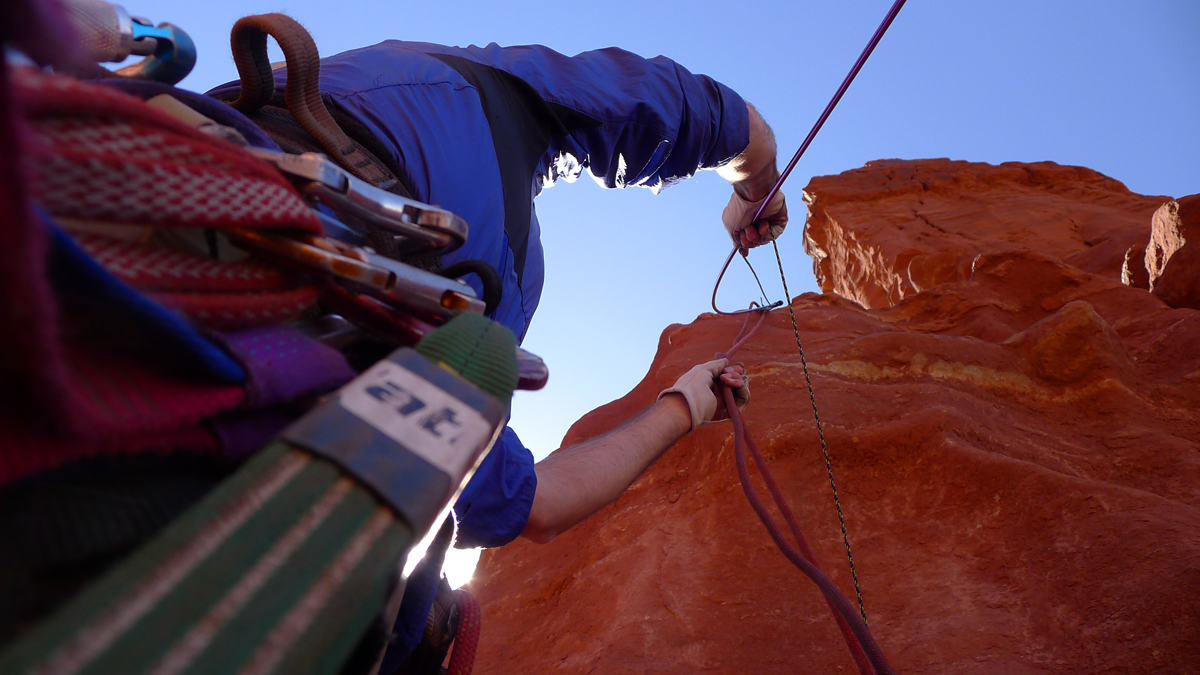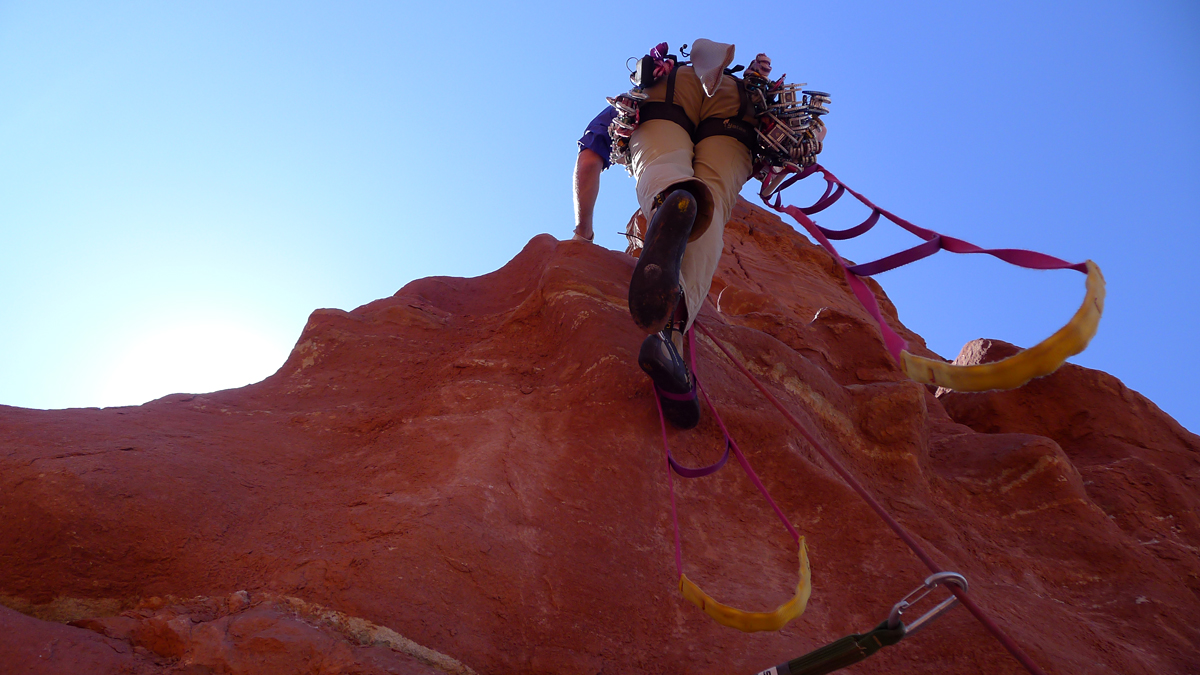 Once the high bolt is snagged he batmans up the rope, begins sizing up the crux pitch, and nervously aids up a series of scary old fixed gear. Confronted with some free moves that he just ain't quite feeling at the moment, Brian decides to let Dominic take a gander. Yikes, this ain't looking good!

Dominic lowers Brian from halfway up the pitch and gets on the sharp end. Slowly but steadily he works his way up past Brian's turnaround point by committing to some insecure free moves, finagles the 2nd expected mandatory stick clip, and pulls onto the highly uncomfortable sloping ledge that is the next belay. Yeah Dom!

Brian jugs to join Dominic and its time for the dreaded reality check. We have underestimated the time required to complete this climb and started later than we should have. Its barely mid afternoon and we're halfway there but darkness will likely set before we reach the summit. Knowing that this is as high as we can climb and fix ropes to the ground, the logical choice is to bail and take another stab at it tomorrow.

Brian and Dominic fix one of the ropes at the top of the 3rd pitch and the other atop the 2nd and with heavy hearts we rappel to the ground. We have not made the cut. The King has spoken. Dominic and Brian are in better spirits than I, and eventually succeed in convincing me we'll make the summit tomorrow... sort of.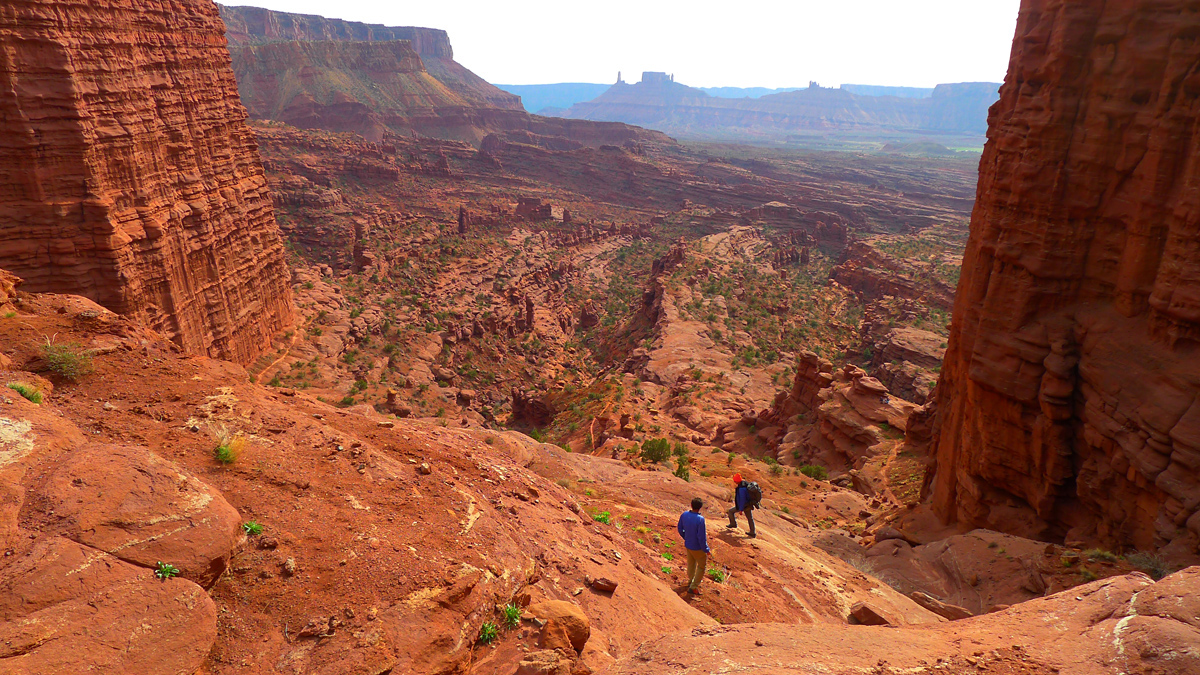 We retreat to the parking lot where the striking Kingfisher is a constant reminder of our failure and corresponding unfinsihed business.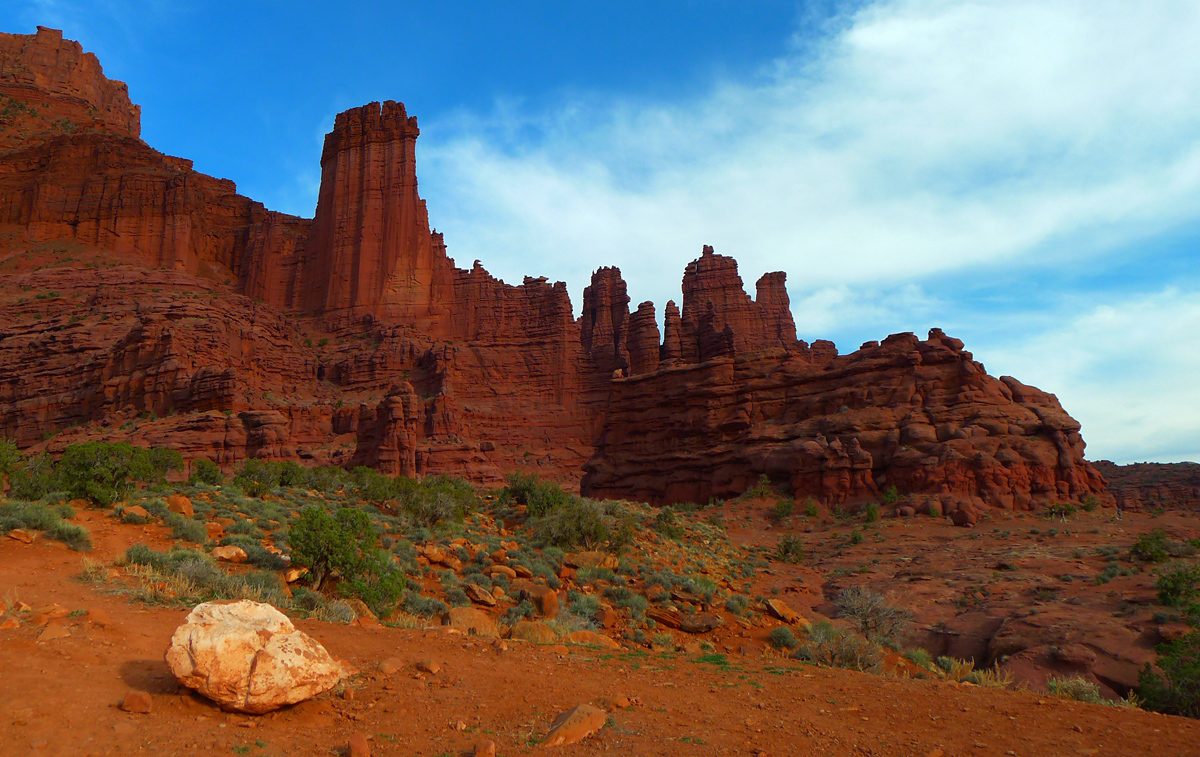 ---
Chapter II: Mother Nature Puts Us In Our Place
---
Its a windy night. And a windy morning. The climb is shaping up to be unpleasant at best. Brian and Dominic jug the first rope to the top of the 2nd pitch. The wind is worrisome. A quick check of the NOAA forecast reveals a wind advisory is set to commence one hour from now. Gusts to 70+ mph. We're sunk.
Dominic and Brian play a round of rock, paper, scissors and Brian loses. The joy of jugging the 3rd pitch to clean our 2nd rope is all his. Game over folks. We're going home empty handed. So much for that fix; this ended up being quite the opposite. Yeah, I whine a lot.
During the long drive home Dominic, Brian & I stubbornly vow to return again in 2 weeks for a rematch. Failure just doesn't sit well with us.
---
Chapter III: The Real Deal
---
Other obligations unfortunately prevent Brian from making the return trip, but Dominic and I stand strong. Armed with a few bits of new gear and ideas to improve our efficiency we think we have a real shot, especially if we get an earlier start.
I'm not thrilled at the thought of leading the creepy first pitch bolt ladder again, but I did it once and I can do it again. This time I undoubtedly move more fluidly and efficiently, but it still seems to take an eternity. As I reach the belay, the position of the sun tells me we're way ahead of schedule compared to our previous failed attempt. So far so good.
My new web-o-lette makes setting up an anchor for Dom to jug on a snap, and he quickly joins me at the dirty belay ledge. I think its worth noting that since we have two ropes, it makes good sense for the jugger to be belayed on the non-fixed line. This provides an extra safety net for almost no extra effort, and speeds up the process by doing away with the need for the jugger to stop and re-tie safety knots.
At the belay I trade Dominic the aid setup for the rack and my rock shoes and take on the 5.8 chimney that he led last time, proving that indeed it is possible to sew the shit out of it. I take a comfy seat on the ridge and bring Dominic up, happy knowing this is the start of a long and well deserved break from the sharp end.
Dominic wastes no time in methodically repeating the crux pitch lead and I am thoroughly impressed by his skill and confidence. He makes it look easy.
---
Pitches Four & Five: Lots of Meat on the Bone
---
The original fourth and fifth pitches are often combined into one 180 footer, largely to avoid an even more uncomfortable hanging belay. Dominic's got his work cut out for him. And I'll be dancing the painful-long-aid-pitch-belay jig for the next couple of hours.
Right off the belay a few wildy exposed aid moves on gear are required. Its disturbing to think about Noah falling on this anchor when a cam blew on him here recently, but Dominic's apparently brought his mental A-Game and calmly and elegantly works through the solution.
A 0.75 cam placement, followed by a reachy #2 lead to a loooong "bolt ladder" which is similar to the first pitch. Straightforward but time consuming.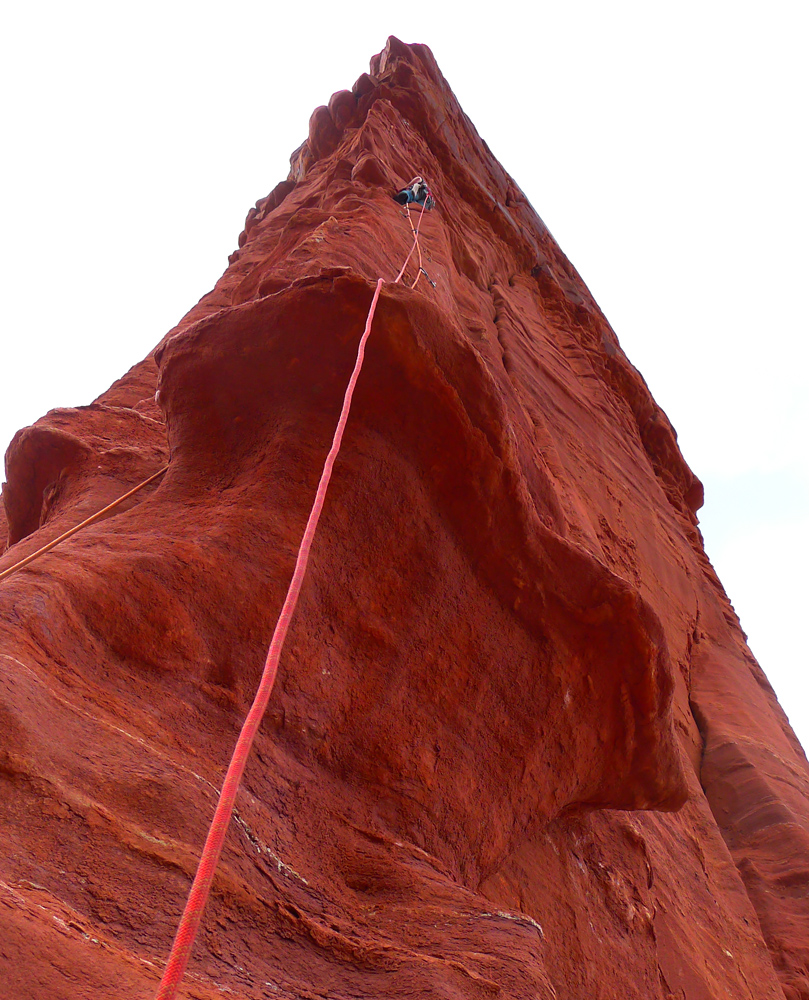 The only thing this belay had going for it is the view!
The top of the bolt ladder is the end of the traditional fourth pitch but Dominic spares us both the discomfort and continues upward, or tries to. Here the route jogs left and takes on the severely overhung caprock via cam placements in a crack running though it. Dominic struggles to overcome the strenuous aid obstacle but eventually manages and finishes the pitch with a mix of free climbing and more aid on old fixed gear.
His reward is the grandiose and uber luxurious belay ledge below the final pitch. After he fixes one of our ropes I waste no time in escaping the misery of the belay ledge and efficiently froggy up to join him.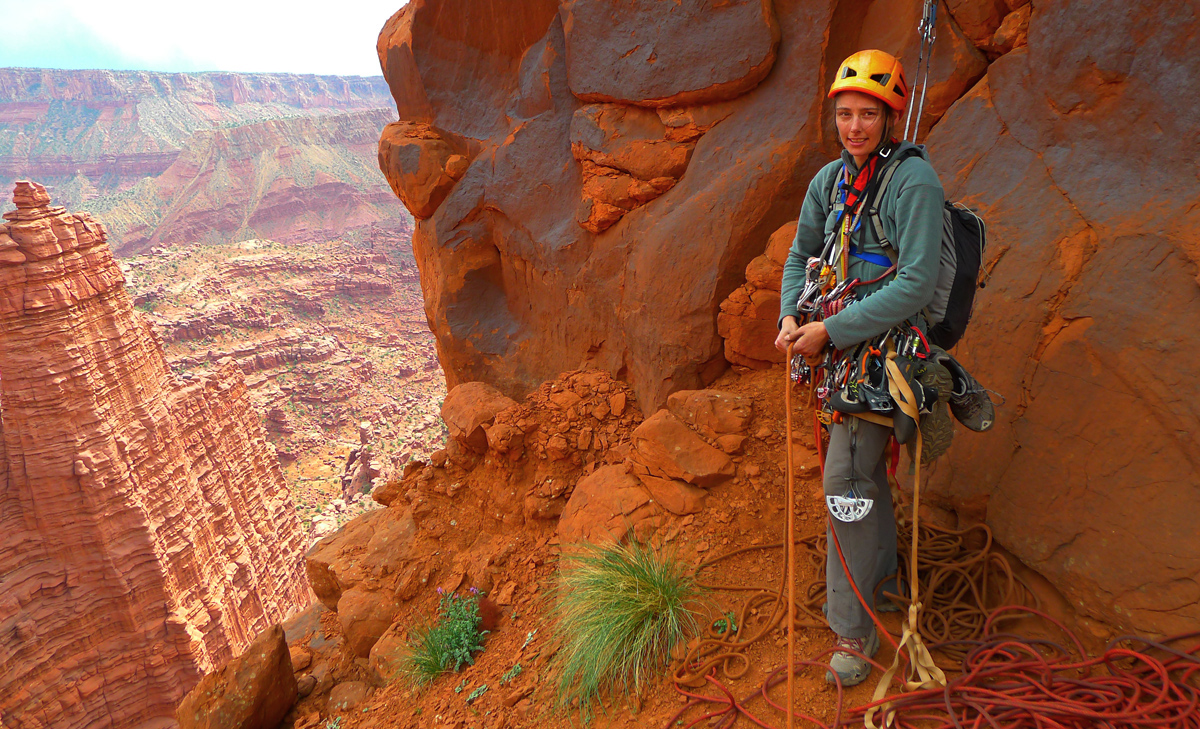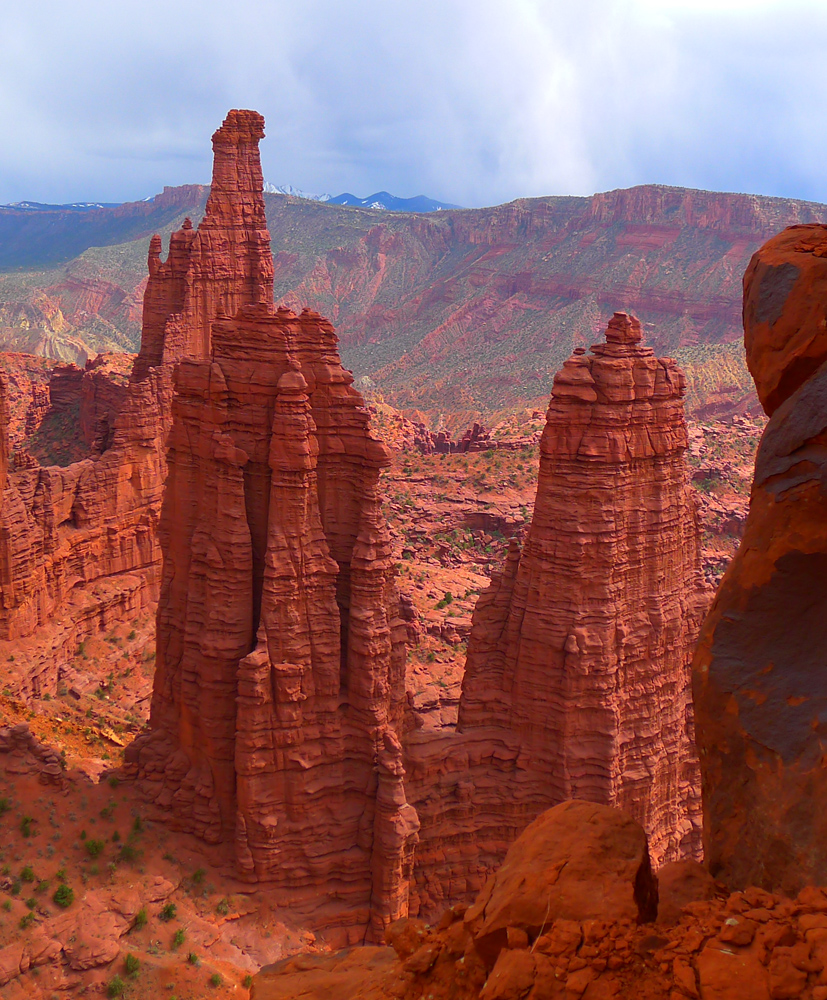 Views of other major Fisher Towers like Echo, Cottontail, and The Titan are fantastic from here and favorable lighting conditions create a truly incredible scene.
---
Summit Pitch: Electric
---
After spending the better part of the day at uncomfortable belays it feels divine to be able to sit comfortably for a few minutes, but we need to sort gear and get on with the final pitch. I change into rock shoes again and start feeling out the arching hand crack at the start. Its not particularly difficult, but I hesitate on the exit before a #4 placement helps me commit to pulling onto the dirty ledge above. After a few easier moves I'm on a large platform.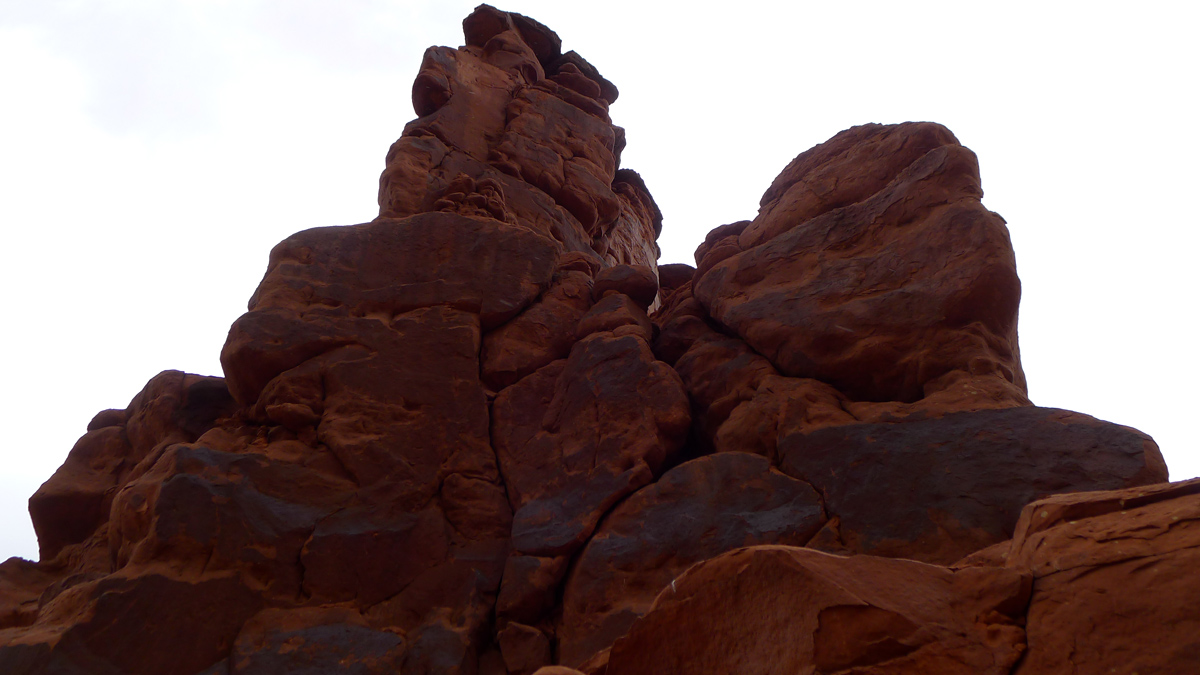 The remainder of the pitch consists of a dirty 5.8 chimney with only so-so pro. I waste energy trying to sling chockstones, start up and back down a time or two before committing, and manage to drop a #2 cam onto the north face in the process. It lands on a small ledge 15 feet below. Dumbass. I continue on with hopes of rescuing it on the descent.
I'm so focused on getting up the chimney safely that it takes a while before the first clap of thunder registers in my brain. Huh? Thunder? Its mid April and weather forecast failed to hint at even the possibility of such a storm. A few more loud cracks and the growing roar of a freight train on the other side of the chimney wall make me think better of continuing to futz around with marginal pro. After topping out I quickly haul in the slack and put Dominic on belay so he can join me before all hell breaks loose.
The thought of being on top of the Kingfisher in an approaching thunderstorm is chilling but somehow there is a calmness is knowing the situation is out of our hands; a speedy descent of this soaring electrical probe is an impossibility. Besides, we haven't come this far to forego the true summit. We quickly take turns scrambling just high enough to touch it. As I slap my hand on top and peer over the summit boulder I watch lightning strike Castle Valley. How long does it take an electrical storm to travel five miles?
The obvious wall of rain is getting closer.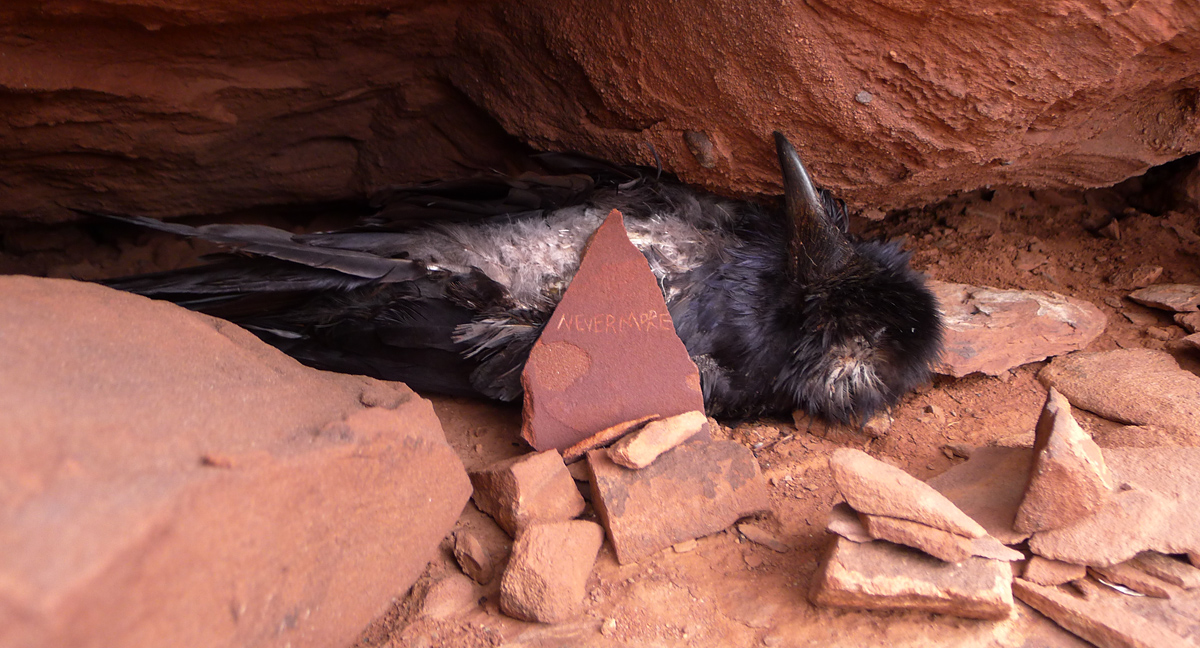 Bizarre. Nevermore's summit grave.
As we retreat to the top anchor the sideways rain starts. Bye-bye #2 cam. A single rope rappel brings us to the wide ledge below the summit where we gather the remainder of our gear, tie the ropes together, and hope for the best. We're facing an 180 foot free hanging rappel in windy conditions and need to land precisely at an anchor on the Kingfisher's narrow northeast ridge. Dominic volunteers to go first... because he's heavier of course. He's rocking quite the battle face as he lowers himself over the lip.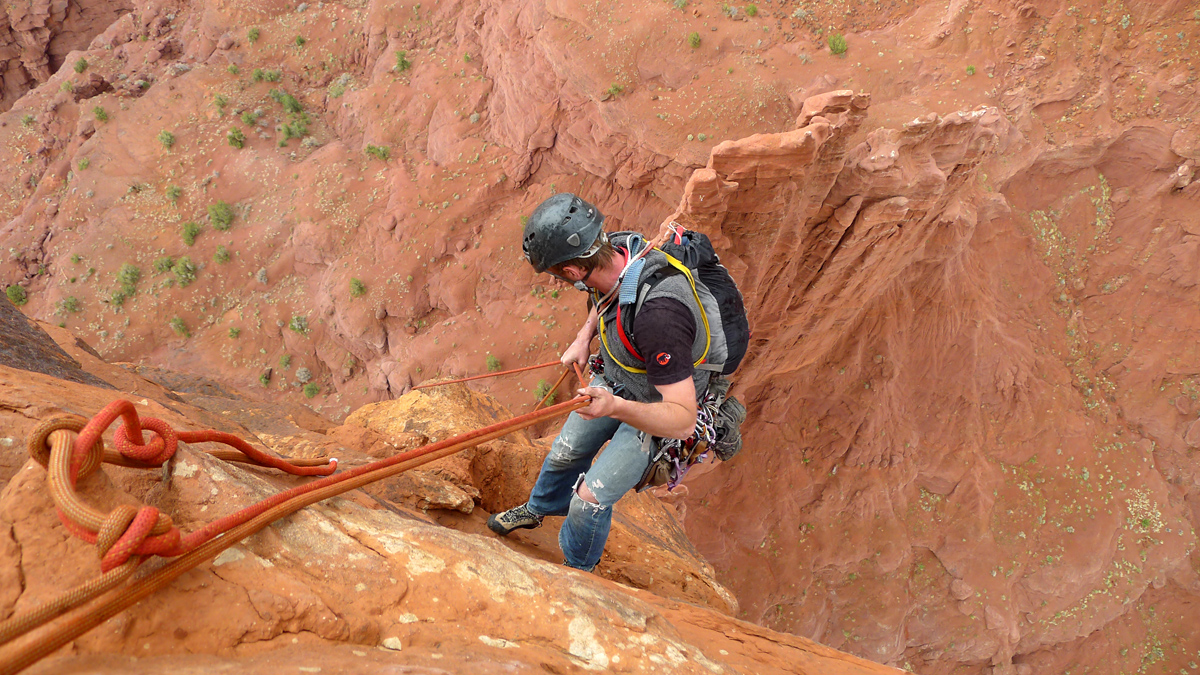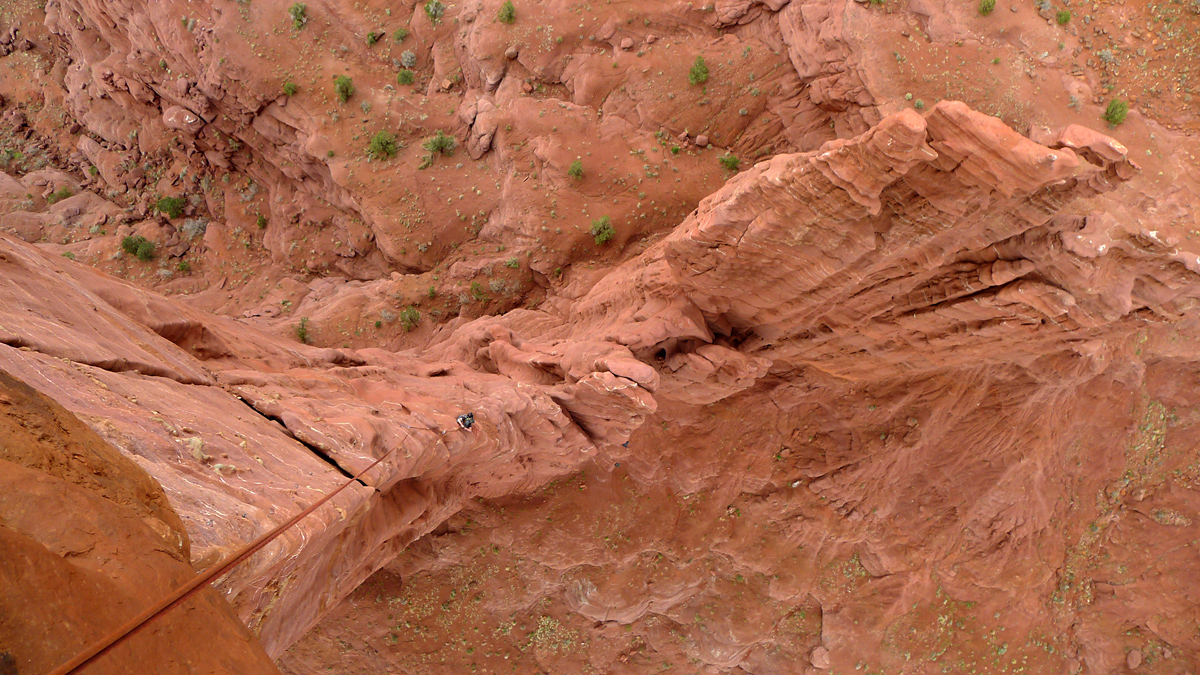 During the rappel Dominic wisely clips the rope to a few of the bolts on the ladder to keep from being blown too far off course. He lowers himself into the vicinity of the anchor, waits for a brief lull in the wind, and grabs the webbing.
I expect this to be just another routine rappel but after I lower myself over the bulging caprock the exposure hits me for the first time. I don't know how much the storm is influencing my preception, but I can honestly say this rappel is turning out to be the most intense part of the climb for me! Rapelling usually doesn't make me uncomfortable, but dangling free over 400 feet of air feels pretty wild I must admit! Looking down is dizzying, and even more so when the wind begins to spin me around and there is nothing I can do about it!
As I reach Dominic at the anchor above the 3rd pitch the storm begins to recede just as quickly as it came. Not caring to discover whether its bluffing or not, the two of us work in harmony to execute the final three single rope rappels and are back on terra firma in a snap.
Well that certainly scratched the itch. Wide smiles decorate our dirt stained faces.
LINK TO SLIDESHOW WITH MORE PICTURES