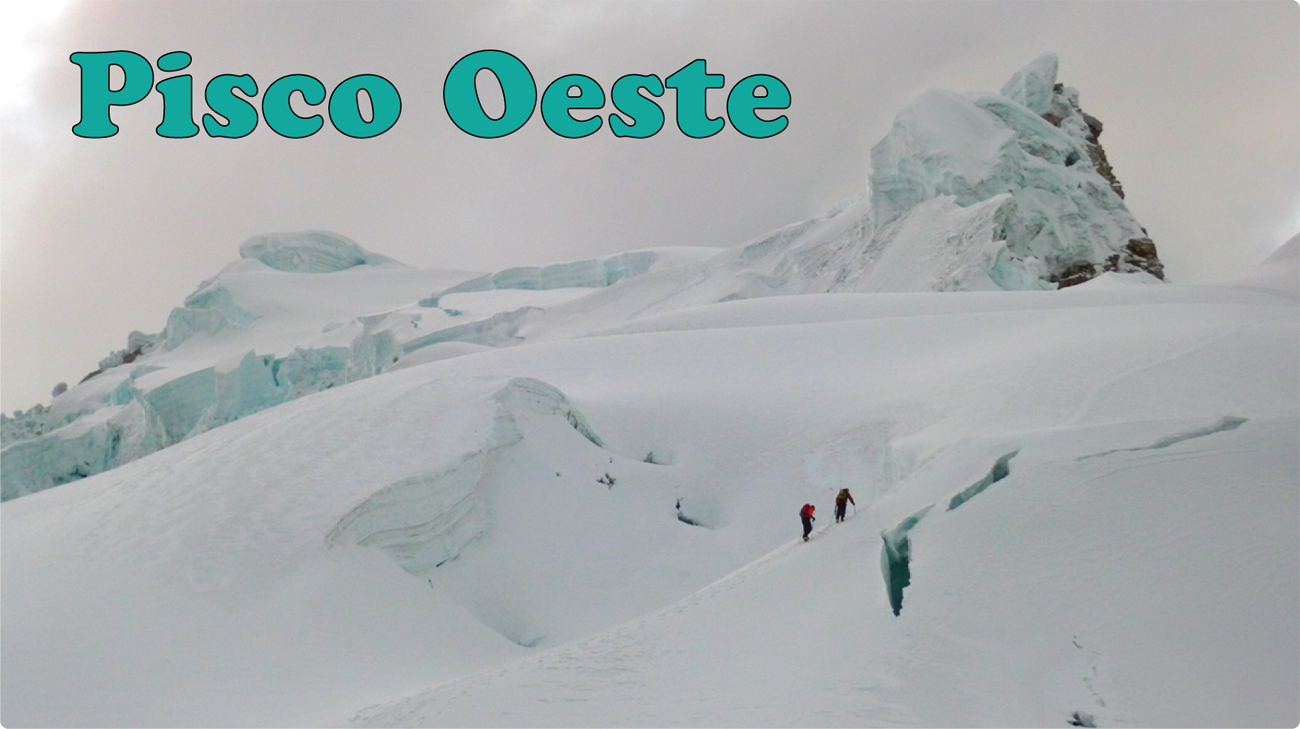 Peak Climbed: Pisco Oeste (18,871')

Route: SW Ridge Difficulty: PD-

Location: Cordillera Blanca, Peru Trailhead Elevation: 12,900'

Mileage & Gain: 3 mi & 2,200 ft to base camp + 4 mi & 4,100 ft to summit

Dates Climbed: July 6-7, 2016



DAY ONE: Pisco Base Camp (15,100')

DAY TWO: Summit, return to Cebollapampa


Pisco Oeste is one of the most popular climbs in the Cordillera Blanca, and rightly so. In a technical sense it is one of the easiest glaciated summits to attain in the range, yet substantial physical effort is still required and the scenery along the way is srikingly beautiful. This was the second mountain we climbed on a three week long trip after warming up on nearby Yanapaccha.
The majority of climbers use burro support to get their gear to base camp. While we generally take advantage of such opportunities, in this case the option posed an unwanted complication that went against the fluidity of our schedule. The plan was to attempt Yanapaccha without much acclimatization, but we penciled in extra time in case that aggressive first try did not succeed. Afterwards we'd meet up with Michael & Kylie at Pisco base camp within a preplanned two day window. Hence there was no way to know in advance when exactly we'd need the service of an arriero. In hindsight, it ended up being only a two and a half hour job and wasn't very taxing. I think it was probably good for acclimatization. Not a bad way to go, though no shame in mules either ;)
Over the several days preceeding the climb the weather had steadily degraded. It rained most of the day that Dom & I hiked up to base camp and we waited until well after noon to pack up camp in hopes of things drying out. No such luck. After a teasingly clear night, the next morning it began snowing lighty 2 minutes after our 12:30am alarm and continued for the entire two and a half hour stumble through the moraine to the base of the glacier. Our optimistic efforts fortunately paid off and once we reached the glacier the skies cleared and we enjoyed a magical climb to the summit. The weather started closing back in once we reached the summit, but refuge bound we were with visions of real food dancing in our heads.