Logistics are never easy in the Winds, and this complex trip was exceptionally well laid out by Teresa Gergen, planner extraordinaire. The meat of our 4th almost-annual Winds expedition lies in the vicinty of Peak Lake, but first a diversion to remedy a little situation of sorts is in order: Teresa needs American Legion; I need Warren. Ingeniously, Dominic & I will sneak up Mount Warren from Titcomb Basin while Teresa & Mark are bagging American Legion from Jean Lakes. The four of us will then reconvene at Peak Lake to continue the journey together.
Wrangler dropping most of our gear at the Indian Basin trail junction, nearly 14 miles from the Elkhart trailhead. The horses aren't allowed any further; Dominic and I are on our own for the remaining 4 miles to upper Titcomb Basin. The wrangler will meet up with Mark and Teresa at Upper Jean Lake this evening and then haul the remainder of our gear (8 days worth of food and fuel plus Teresa's and Mark's belongings) to the final drop near Peak Lake tomorrow while we're climbing.
Plug for Outfitters
The 18 mile trek to Upper Titcomb has never seemed easier; we arrive mid afternoon and are settled and lounging by 4pm. If you've ever backpacked to Titcomb Basin you can probably begin to appreciate this luxury. Would we have made it here in a single day with 10 days worth of provisions, backpacking and technical gear and be ready to climb something tomorrow without the outfitter's help? Hell no. If you're one of those people that like backpacking for the sake of backpacking, good for you. If not, why not get right to the good stuff? The local outfitters rock. Support them. Enough said.
Mount Warren: Unfinished Dinwoody Business
Mount Warren, despite being the 4th highest peak in the state, is climbed by very few. And of those few, nearly all seem to approach it these days from the east via Dinwoody Glacier and utilize a reportedly not-so-obvious route that begins in the vicinity of Elsie Col. Can we approach it instead from Titcomb Basin, going up and over the col north of Helen to reach Helen Glacier and thence up some reasonable line on the south face? Sally and Michael Westmacott, "of Everest fame", reportedly did. Time for a modern day reenactment.
Old school Bonney description for our intended route on Warren, our only beta.
Hmmm... couloir, Class 4, pitch on poor rock eh? That leaves a lot to the imagination. Crampons, ice axe, light rack, and a 60 meter rope should cover the bases one would hope. On the other hand, you never know what to expect from these wild and fickle Wind River peaks that seem to morph into entirely other beasts while guidebook authors aren't looking.
We start out from camp around first light and head for the col north of Mount Helen. We've used this route to access Spearhead Pinnacle and Three Brothers in the past, but today we find it in much more frustrating form. Less snow means more scree and loose talus and that adds up to a lot more profanity. Emerging from the torture, the gentle, soothing snow slopes of Helen Glacier greet us at last. Well hello again, beautiful.
Descending Helen Glacier.
Descending Helen Glacier toward the base of Warren's South Couloir. Three Brothers, a high 12er we climbed on a previous trip, on the right.
Me at the base of the couloir.
Routefinding is often tricky in the Winds; not the case here. Go up the huge and obvious couloir. Perhaps this route's biggest strength is its straight-forwardness; its hard to go wrong.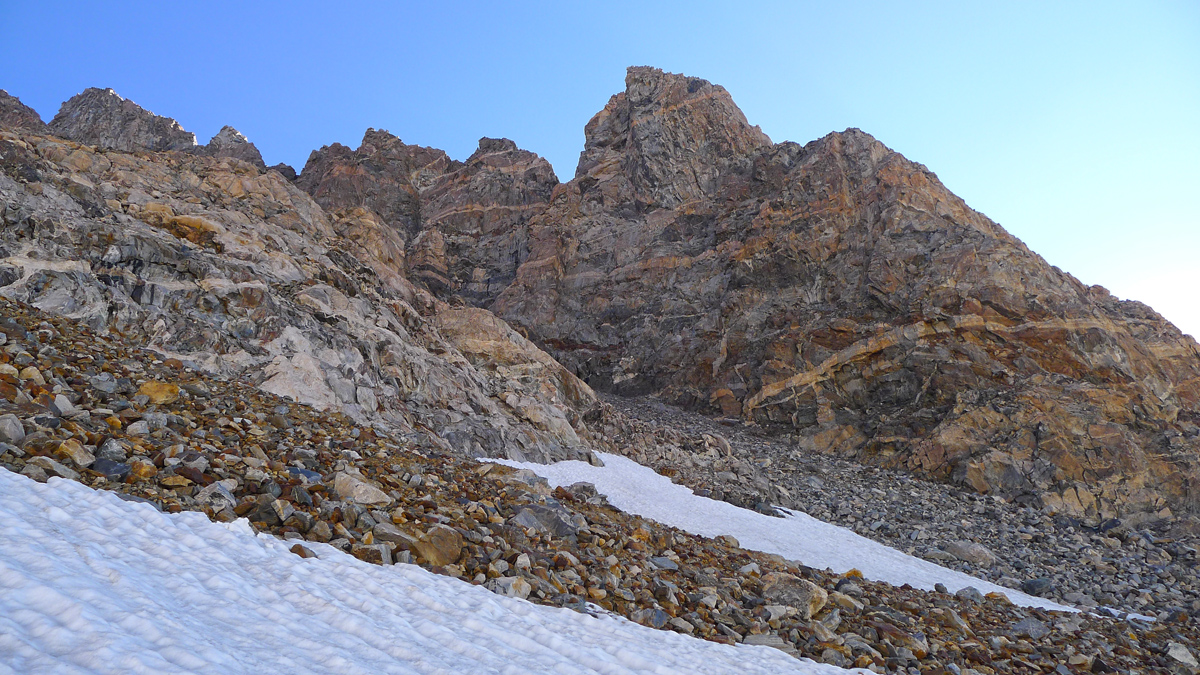 What does the couloir have in store?
Starting up the main South Couloir. The initial 150 feet is composed of medium to large sized, somewhat loose and worrisome boulders. Stability improves above.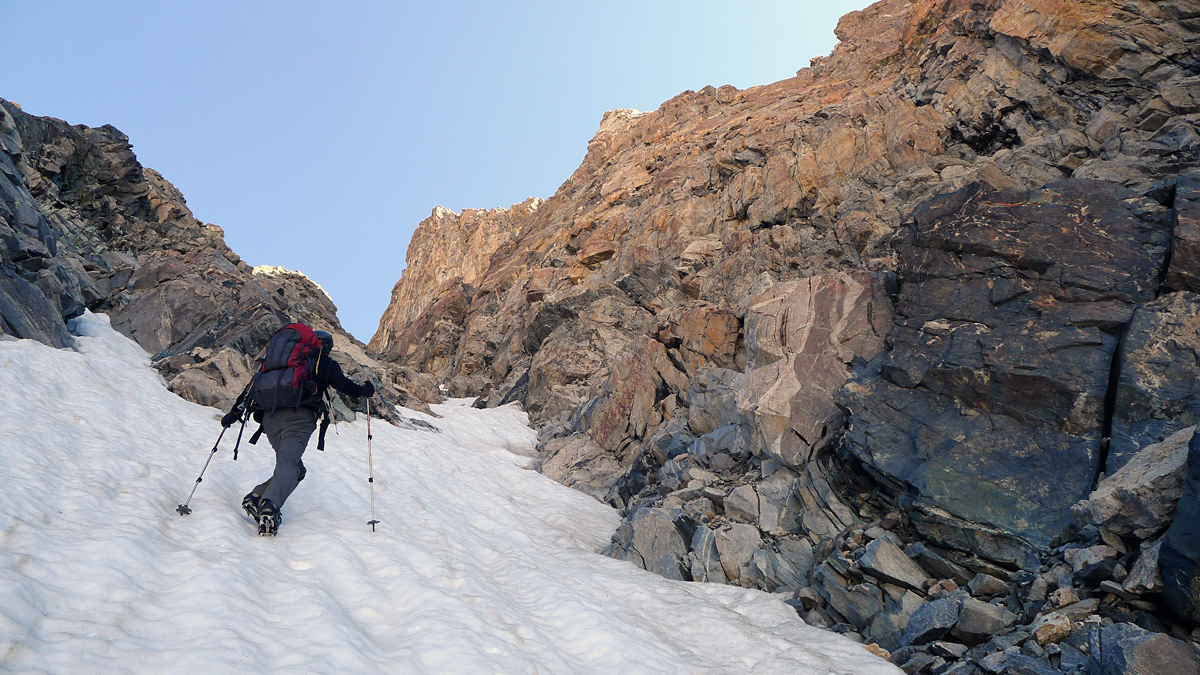 Moderate but hard snow encourages us into crampons for 200-300 feet.
Low 5th class boulder type problem in the main couloir. 10 feet of awkward, polished rock in wet boots.
"Ascend 750 feet to small couloir leading right"... check!
Starting up the smaller couloir in anticipation of the "pitch on poor rock".
Looks manageable.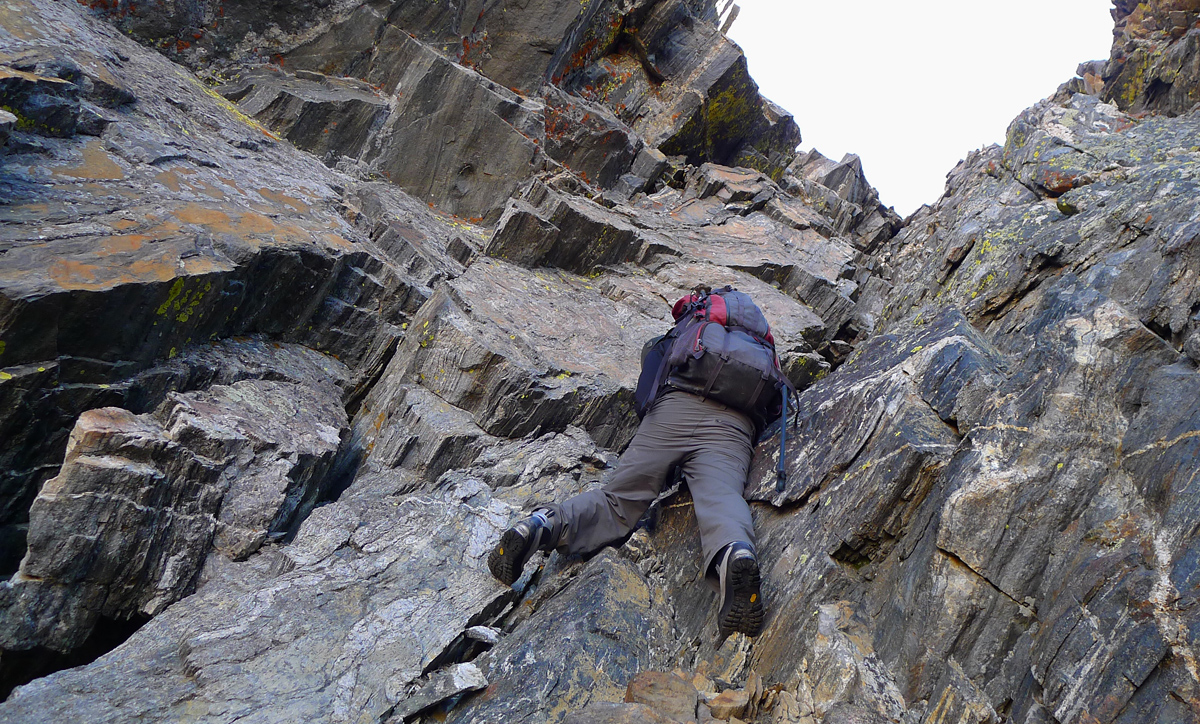 4th class, maybe. Certainly low 5th class by the Colorado standards we're used to. While there is a substantial amount of loose rock here, many holds are very solid and reliable. Choose wisely.
Climbing very carefully we manage without a rope in both directions. I recommend taking a rope and small rack and deciding for yourself.
After the 80 foot crux pitch we pop out on the southeast ridge. The summit is further than I expected but, as advertised, the remaining ridge is a fairly straightforward scramble.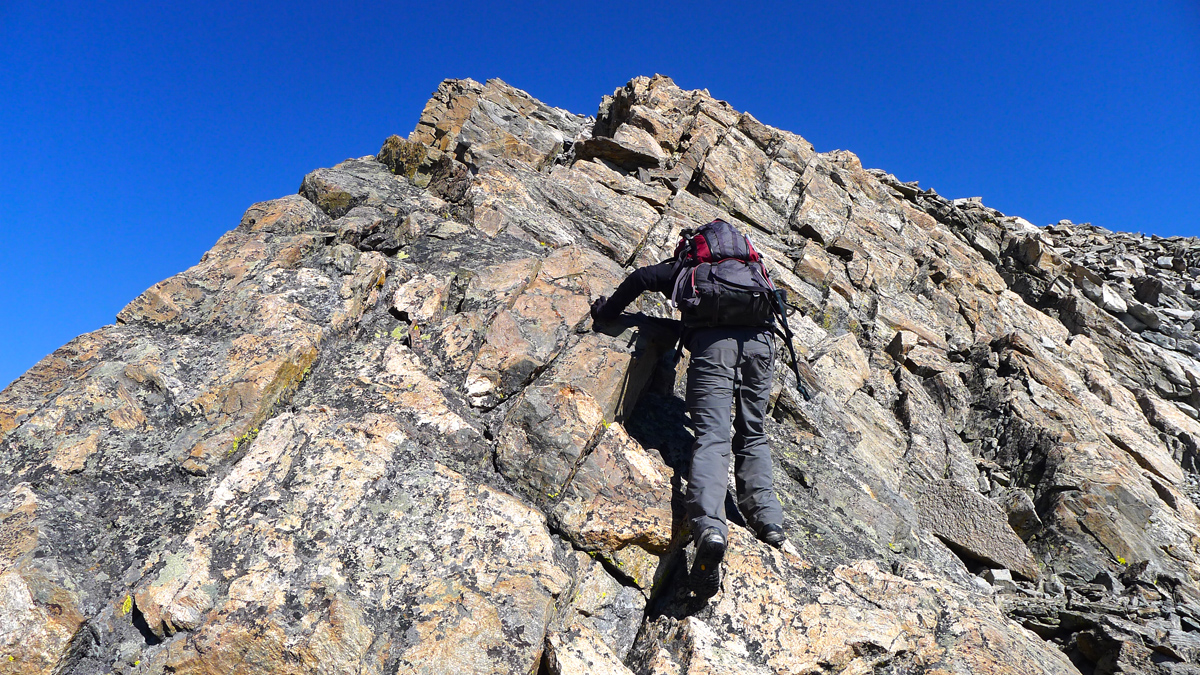 Warren's (mostly) tame southeast ridge.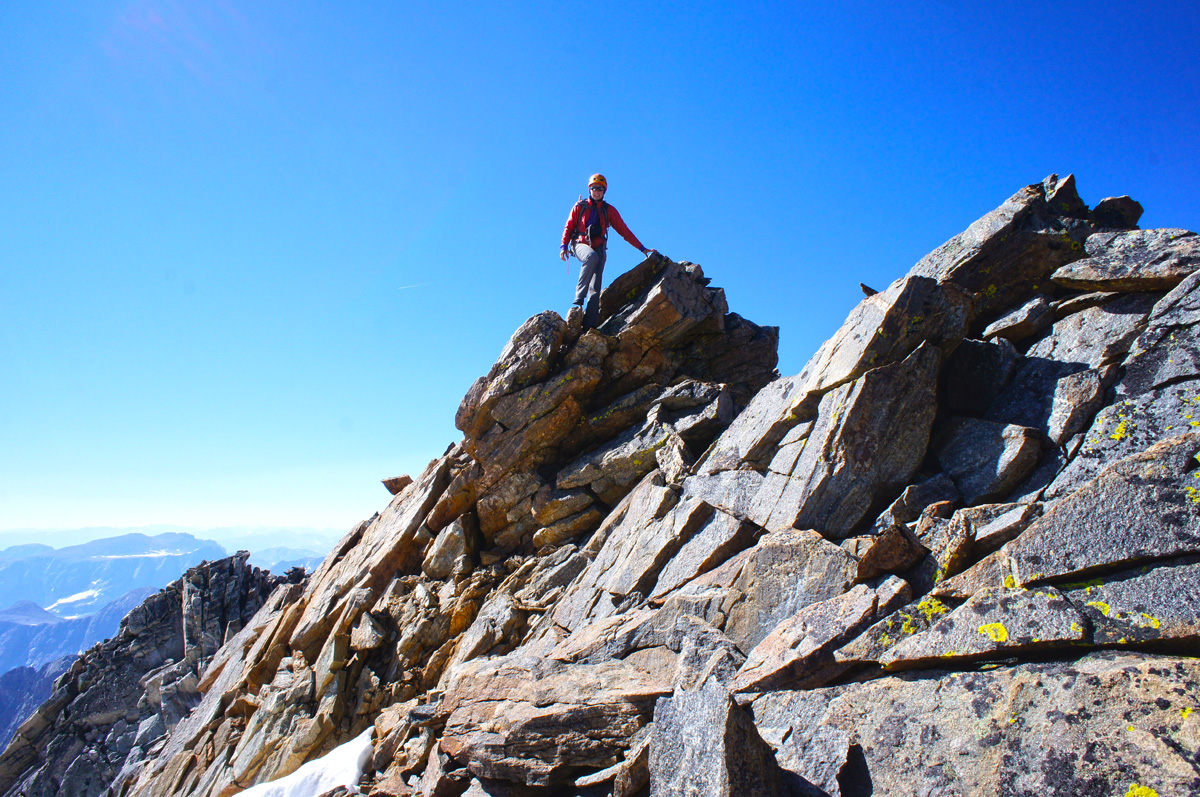 Enough scrambling to keep it interesting.
Jackson, Fremont, Sacagawea and Helen, what a fine bunch.
View towards Gannett Peak and Dinwoody Glacier from the summit. Gannett seems to get dryer ever year.
Our airy route up Turret's West Ridge from Elsie Col in 2009. My first Wyoming 13er, and what an introduction it was! Good times.
Me on the summit!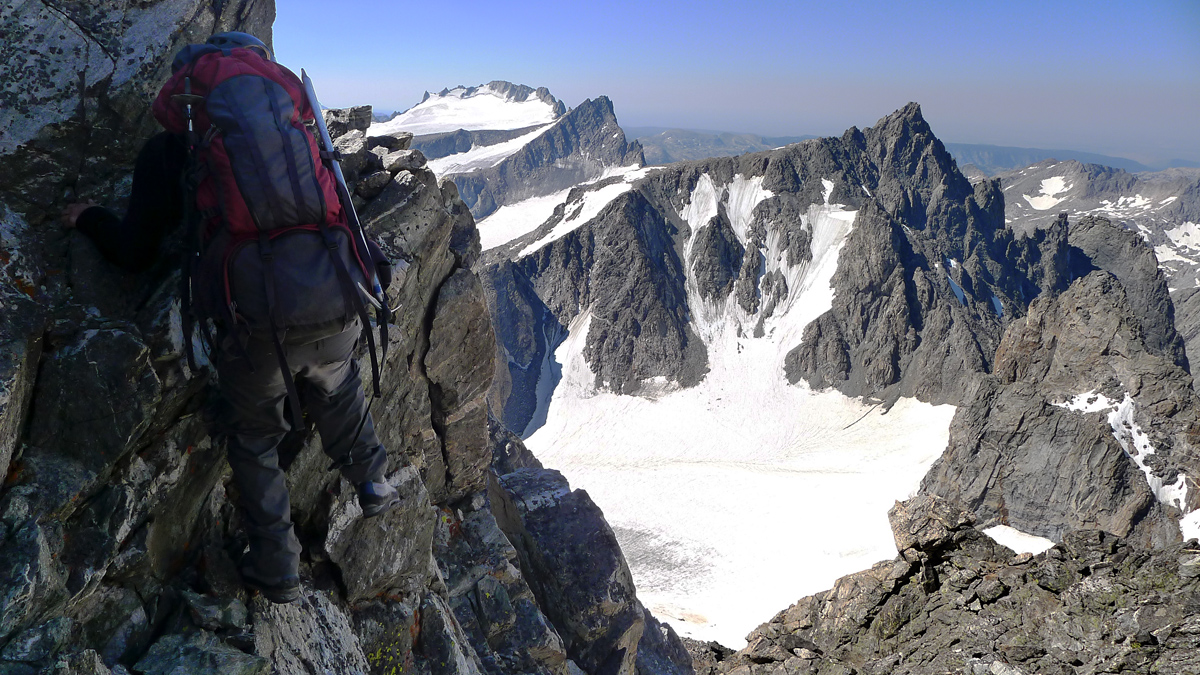 Reversing the ridge.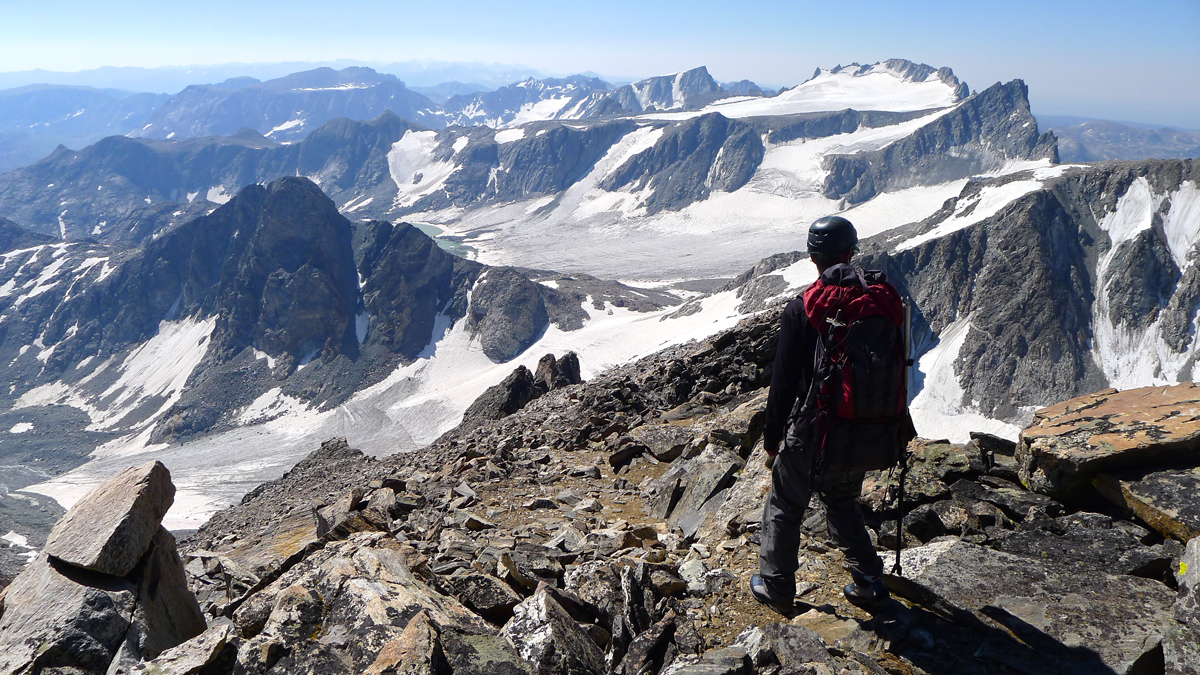 Downclimbing an icy spot in Warren's main South Couloir.
South Couloir Route Synopsis
As couloirs in the Winds go, this is one of the more solid examples. Some can be downright terrifying. BUT its still a couloir with loose rock and certainly some objective risk. Would I recommend it to a friend as a good way to bag Warren? Yes. I have not been on the more standard route from Elsie Col, but I believe it is technically a bit more difficult. The South Couloir may very well be the easiest path to the summit. Recommended gear: helmet, crampons and ice axe, 60 meter rope, webbing for a rappel anchor, and a small alpine rack (ie cams 0.3 to #3 and small set of nuts).
Helen Glacier stream and Three Brothers.
Winifred Peak: Low hanging fruit on the backpack over Knapsack Col
After success on our main objective, we take a short break at camp before packing up and tipping our hats to good ol' Titcomb. With tired legs we plod toward the reportedly mellow Knapsack Col, our portal to the realm of Peak Lake. En route, what peakbagger could resist little Winifred? Less than a quarter mile and 600 vertical feet out of the way? Sold... even though it means getting to camp at 7:30pm after a near 14 hour day. The views are SO worth it!
Heading toward Knapsack Col with great views of Twin Peaks.
Starting up Winifred from Knapsack Col.
Twin Peaks from just above Knapsack Col.
Dominic on the summit, American Legion looming behind.
Stunning view south from Winifred Peak.
Henderson and Summer Ice Lake.
The Sphinx (left), Mount Warren, Mount Helen (right).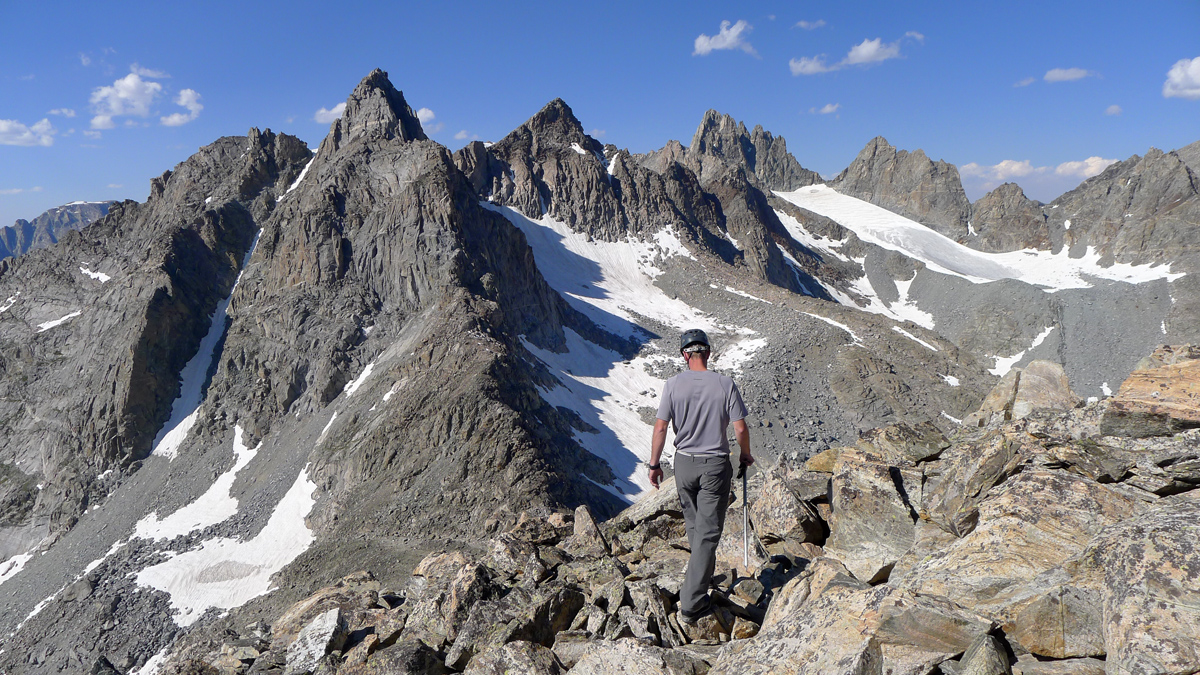 Beginning the descent with lots of nice eye candy. Twin Peaks, Woodrow Wilson, Sphinx.
Passing by a small lake above Peak Lake. Stroud Peak is on the left, Mount Oeneis is on the right.